At the end of the day, after spending time on shore or at the pool, it's time to relax and catch a show.  The variety of entertainment on cruise ships has gotten better over the years.  It's no longer just the cheesy song and dance numbers by the "cruise line dancers".  Yes, there still is some of that, but some lines have stepped it up considerably.
In some cases, the ship will make a difference.  We have cruised on than Norwegian Dawn and were very disappointed by the nightly shows.  I haven't been on one of the newer Norwegian ships for a sailing, so I can't comment on that.  The first two times we sailed on Royal Caribbean, the nightly shows were not worth our time, but I was very impressed by the shows on the Oasis of the Seas.
If the nightly shows are important to you, make sure you let your travel agent know so they can pick out the best cruise line and ship for you.  Here are my picks in order of personal preference.
Royal Caribbean – Oasis of the Seas has Hairspray, Allure of the Seas has Chicago, Liberty of the Seas has Saturday Night Fever.  In addition we had a headliner (on our sailing it was Abbacadabra and we also had an American Idol star), Come Fly with Me and Oasis of Dreams in the AquaTheater.
Disney Cruise Line – Fantastic shows with outstanding choreography, stories and music.  It doesn't matter which ship you are on, the shows are amazing for kids of all ages.  Yes, these shows are appropriate for everyone, which seemed to be a problem on some of the lines.  The Golden Mickeys, Wishes, Aladdin, Twice Charmed.  The only thing that made me unhappy was that DCL discontinued Hercules the Muse-i-cal.  Loved that show!  Disney spares no expense with these shows as the sets and costuming are top notch.
Celebrity – The shows we saw on Celebrity Solstice were mixed.  Some seemed very professional while others were a bit laughable.  Definitely there were shows that shouldn't be missed.  Pulse, Remix and Edge are three of their custom productions.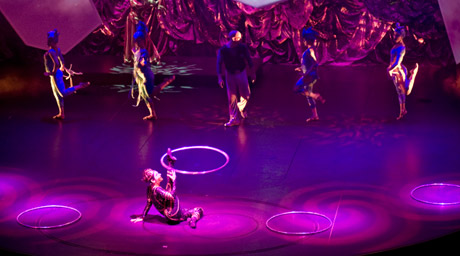 Norwegian – Revue-type shows with singing and dancing.  Sets are minimal and costuming is refitted when new cast comes in.
Carnival – More of the revue type shows.  Went to two shows that were supposed to be "the best".  Dancing in the Streets was ok but not in a league with either RCCL or DCL.  We didn't bother with Get Ready but were invited as VIPs to Xtreme Country.  Since we were sitting next to our hostess for the night, we felt we had to look like we were enjoying ourselves.  It was a hard act.  A couple good singers, but not a good production.
Princess – Nothing about these shows "invited" us so unfortunately, I cannot rank Princess.
Next up:  Dining.